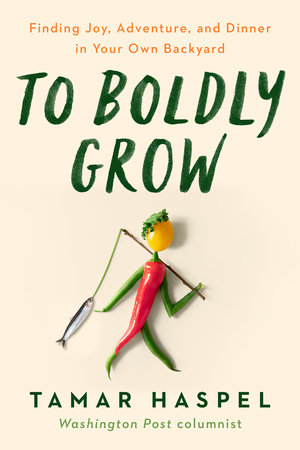 Haspel, Tamar (2022) To Boldly Grow. Finding Joy, Adventure, and Dinner in Your Own Backyard. New York: G. P. Putnam's Sons. 231 pp.
Ellen Messer (Tufts University)
How many of us have at some point wondered what it would be like to live off the land and waters in our vicinity and eat only or mostly foods that we had directly sourced through our own efforts? This challenge—to produce, forage, fish, or hunt "first hand foods" and make them a regular contribution to daily diet, is the theme of Washington Post food blogger Tamar Haspel's latest book. It brings us along on her food journey of discovery in Cape Cod, Massachusetts, where she and her husband took up residence and began to garden and appreciate the other wild life available for nutritional taking if one had requisite knowledge and guidance. Haspel, a journalist, and her husband, a former Wall Street coffee trader and fortunately for Haspel, a competent and risk-taking handyman and craftsman, relocated from a New York City apartment to a small Cape Cod residence off the beaten path. There they pioneered this food adventure, a story told in carefully constructed parts that begin with gardening (Part 1), figuring out how to grow delicious tomatoes in totally sandy soils and also mushrooms, carefully seeded into prepared settings. Their story next moves into poultry (Parts 2 and 5—chickens and turkeys respectively), then fishing (Part 3), foraging (Part 4), and finally hunting (Part 6). This last involves some very careful instruction about gun safety and the different structures and proper uses of shotguns versus rifles (or modified shotguns).
The component sections of each story are lyrically written and aptly, if humorously, titled. In "Gardening," "We Begin Unsoiled," then move on to "Plants Everlasting" (annuals versus perennials) and "Shiitakes Happen." Their home egg sourcing originates with "Coop Dreams" and continues with "Chicken Out." Fishing includes both fin fish, which include salient schooling, catching, and cooking characteristics of different species, beginning with bluefish, and then moves on to "Practicing Shellfishness," which includes successful oyster farming. These fishing and shellfishing chapters contain lively and engaging sensory descriptions, for example of false conch, which she writes are beautiful, energetic fish that taste awful as a result of their fatty, fishy tasting flesh that is also unpleasant in texture. They used it as bait for lobster traps. (Does it influence the flavor of the lobsters, I wondered?)
Foraging examples begin with home processing their own sea salt and concludes with "Low Hanging Fruit."  Management of turkeys is sufficiently different from managing chickens to merit their own section.  For me, the most intriguing descriptions surrounded hunting, including Haspel's learning to accept and handle a gun to get food, and successfully bagging deer ("Deer Me"). The point of all this activity, Haspel tells the reader in an epilogue, is "Dinner" but also the experience of farming, fishing, foraging, and hunting as part of building a community, which then eats together in your backyard, where you have also built a wood-fired oven that makes heavenly pizza!  In several sections she details her philosophy and thinking surrounding killing wild or domesticated animals, as painlessly as possible, for food.  That said, she is a proponent of plant-forward diets and an opponent of factory-raised everything, included industrialized animal operations.  A detailed example of her observant and adventurous writing style, which continually examines relationships between humans and food species, is a description of penned turkeys, on p.159:
In general, the turkeys turned out to be better company than we expected, and we spent a fair amount of time hanging out in the pen watching them watching us…
I suspect they exceeded our expectations because our expectations were pretty low…We didn't think they'd be as charming as chickens and they weren't… [but] "down the road" [they (Haspel and partner) found them] "…way more charming than ducks" which proved to be extremely messy albeit delicious to eat.
The epilogue, which focuses on the sociability of consumption, allows Haspel to pause for reflection that their first-hand food-getting activities aim more at self-reliance, not self-sufficiency.  The goal is not to keep other people at arm's length but to affirm interdependence, which is "part of what makes us civilized" and makes food, especially first-hand food like this, central to being human.  In all, this extremely well-crafted set of essays communicates an additional message, an appeal for better understandings of the relationships between people, as well as between humans and the species that feed them.
As a Massachusetts resident and occasional visitor to Cape Cod who appreciates its land and sea resources and people, I found the deeply human-to-human and human-to-animal species and natural resource relationships endearing. This went beyond my critical reactions to Thoreau's Walden, with its backstory of male dependence on females to feed them, while the male spends his time contemplating and writing about the woods and pond with all their lovely resources.  Each part of Haspel's book ends with an extremely useful, practical guide for making first-hand food one's own pet project—including, e.g., a guide to selecting chickens and related guide to building chicken coops, a horizontal decision tree for "How to Decide if a Mushroom is Edible" and "How to be a Harvester" of deer, including gun safety, regulations, and additional precautions.  What struck me, and sometimes prompted the author to reflect in the text, is the privilege she and her husband experienced in being able to purchase a modest residence with ample (if sandy) land in a low-populated area of Cape Cod.  Although they were also frugal and constantly budgeting their limited resources, they had sufficient assets to launch this adventure, which would pose financial and social challenges to many would-be first-hand food aficionados, particularly persons of color.  With these constraints in mind, I contemplate pairing this reading with Leah Penniman's Farming While Black, which covers analogous issues from the perspective of a person (often female) of color trying to get started. This process, which begins with the struggle to acquire land and access additional resources, pose tremendous difficulties for individuals without savings or other financial or professional assets. What are commonalities and differences, and how does a theme centering on building community through food permeate each in similar or dissimilar ways?  Stay tuned for future discussions, and meanwhile, enjoy Haspel's exquisite food writing.