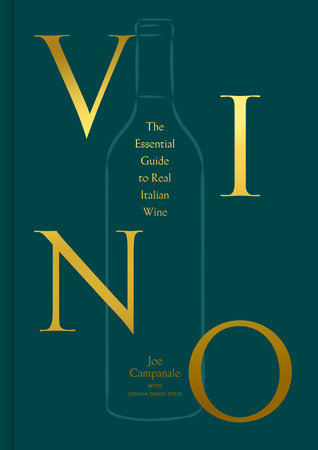 Campanale, Joe, and Joshua David Stein. Vino: The Essential Guide to Real Italian Wine. Clarkson Potter, 2022. 320 pp. ISBN 9780593136140.
Jesse Dart, Arizona State University, Swette Center for Sustainable Food Systems
In the first pages of Vino Joe Campanale, aka Joey from Queens, tells his wine story. It's not a classic New York Italian story, he makes sure you're aware of that, but it does remind me that many times over the years, each person I've met working in the wine industry has their own "wine story." It's a path that usually zig-zags through different career paths, random jobs, sometimes a trip to Europe or New Zealand, maybe a bottle shared at a fancy restaurant. But what holds true in all of these different stories, is that wine continues to capture, captivate, and inspire people from all walks of life.
Part memoir, and part encyclopedia, Vino is of the moment. By that, I mean that Campanale has captured a moment in time in Italian wine making history. In the beginning chapters he explains in clear detail how the DOC system came into being and how it's not necessarily the bellwether of the best, most interesting wines any longer. While respecting tradition, he goes on to suggest his own system, the VVV, or the, Vino Vero Venn. The three aspects, as he defines them, of the VVV are native grapes, exceptional terroir and artisan winemakers. The intersection of these three circles is the sweet spot and the wines and winemakers that are the focus on this book. As Joe says:
"The VVV would be of only abstract interest and limited use if the criteria were so difficult that few wines qualified. By intent, that is not the case. Over the last twenty years, there's been a powerful sea change toward embracing smaller vineyards with native grapes. Its heroes are winemakers who have embraced the challenge of a light touch, a personal vision, and a deep connection to their land. As the three circles of the VVV converge, that bull's-eye is growing larger and larger."
The book showcases extensive research — perhaps some of the most robust wine research I've encountered in any recent book. Traveling through all 20 regions of Italy, from north to south, he diligently tells the story of each one, looking not only at the terroir, but the native varieties, outstanding wine makers, and at the end of each section, his list of producers who conform to the VVV. While some academics might not consider this an academic book, I'd disagree wholeheartedly. Campanele has essentially created a new theory of what makes wine good, in his expert opinion, and how we can utilize his theory to make a judgement. The VVV is a theory, one based on his own personal research. The theory might not suit a wine from New Zealand or the USA, but the underlying foundation is of solid contemplation.
And while this book does at times feel like it could fall into the same trap as many books about wine and become dated, there is a crisp quality to it that seems to stand out — not just in the writing, but in the approach to the wines themselves. Devoid of any kind of rating system or mentioning of specific vintages, he seems to understand that today's drinkers are not always interested in these details, but instead, are interested in the best expression — and it's here that the link can be made, I believe, to consumers interest in spending money on experiences, rather than objects. Many of the most highly prized bottles from any exceptional region in the world demands time, money, and care. Three things that seem to be on a slippery slope these days.
Apart from the detailed region by region section, it's part II, Emerging Styles, that brings a sense of newness to wine writing. In this section, a mere 20 pages long, he moves through sparkling, orange, and quality rosé, while also looking at age worthy whites and light reds. While some of these wine styles are emerging (orange in particular) the other styles have existed locally, but are just finding their way into the marketplace. What Joe is really talking about here is their emergence on the international scene, which shows a shift in consumer taste. Consumers have slowly been adapting their palates to more and more diversity — not just in wine, but in food. Joe's ability to capture this shift shows insight that obviously comes from his extensive experience in restaurants and the wine industry. He talks on page 39 about this shift:
"As the Italian wine scene has evolved, winemakers have begun looking inward and deeper at their own roots. What they've found, native grapes of stellar quality, has given them confidence and demanded from them even more technical prowess to properly express that excellence. The market has rewarded them too, embracing gutsy character-driven wines. And as this has occurred – that is to say, as we've begun to move away from the pyramid and into the world of the Vino Vero Venn – new styles have emerged, styles that are, perhaps, more suited to these evolved tastes."
What I think we can glean from this section is that wine makers have constantly experimented in the cellar, and sometimes those experiments result in something truly extraordinary. But it takes time for the market and tastes to catch up. Wines made for home consumption often lack the preciousness of those made for the marketplace, and it's this lack of preciousness that makes the wine real, or, in Joe's case, emerging.
This book, well suited to anyone with even a passing interest in Italian wine, would make an excellent series, covering other wine producing countries that can feel intimidating. Portugal comes to mind first, a country with wines that still feel at the fringes. While anthropological research into the wine trade still feels at best, lightly touched upon, Joe's book could be a field guide for anyone looking to do research in the wine industry in Italy — as long as that research is focused on smaller, mostly family run estates.
I wasn't expecting this book to affect me in the way that it has. I have a deep emotional attachment to Italy, my second country of citizenship, and the images by Oddur Thorisson are luxurious, adding to the emotional quality of the book. Anytime I feel homesick for Piedmont or Veneto, I only have to open the book and find myself brought to life again by the stories and images of a country that, not just I, but many others, have on our minds.