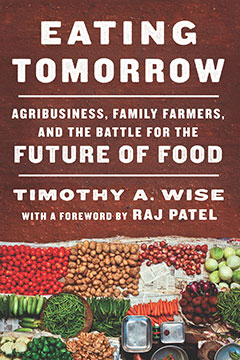 Wise, Tim (2019) Eating Tomorrow. Agribusiness, Family Farmers, and the Battle for the Future of Food. New York: The New Press. ISBN 9781620974223
Ellen Messer, Ph.D.
(Tufts University Friedman School of Nutrition Science & Policy, Boston, MA)
This is a must read for economists, anthropologists, and consumers interested in the future of food, nutrition, and smaller-scale farming. Its distinctive focus is smaller-scale farmers, and their struggle to survive on their farms and to produce diverse, nourishing and affordable foodstuffs over and against Big-Ag and Big-Food in collusion with national governments. It represents the most recent entry in the "Food First!" themed books, which formulate the chief causes of world hunger to be "who controls the food system," what crops are produced by what methods, and how available food is distributed. All center on questions of food access, not absolute shortage.
The individual case studies, covering Mozambique, Malawi, and Zambia in sub-Saharan Africa (SSA); Iowa in the US; Mexico in Latin America, and India in South Asia, respectively address hot-button issues like destructive impacts of foreign direct investment (AKA land-grabs, especially in SSA), and environmental pollution of water, soils, air, plant and animal species and communities, that singly and together wreck farmers' lives and livelihoods in rural communities across the US and globalizing world. A related theme is erosion of traditional land races of crops, especially maize, by introduction of genetically engineered, corporate controlled seeds in the US, Mexico, and SSA. These corporate invasions discourage or prevent farmers from saving and planting their own locally adapted, open-pollinated seed or locally produced and traded hybrids, and from adopting regenerative farming methods that lower requirements to purchase inorganic chemical fertilizers and pesticides, thus reducing farm costs and raising farmer livelihoods.
The entire volume, and the Indian chapter in particular, voice a demand for change that will advance everyone's human right to food over and against profits for a few. The related terms,"food sovereignty," call for an end to dependency for farmers, farm communities, and nations and their governments, who should be attending more to "food security" and not subservient to corporate demands in setting food policies that demonstrably disadvantage small (and sometimes large) farmers and usually lower rather than raise production and income. Yet this is no mere political-economic diatribe savaging industrial, capitalist agriculture and showing the inevitable associated ills of globalized food systems. Instead, the ten chapters are based on four years of repeated research visits to the focal countries, where Wise interviewed and here effectively channels the voices of local food and farm activists seeking solutions to under-production and remedies to reduce corporate controls. These voices don't always agree with each other, particularly around issues of organic practices and labeling, or the requirement for open-pollinated versus locally adapted and controlled hybrid seeds. But they share the common characteristic that they oppose world capitalist dominance of their seed selections and soil maintenance practices, which speaks to the overarching issue: who controls the food system? They oppose conventional high-input, business-as-usual agriculture or more advanced molecular breeding techniques because these approaches are dominated by mostly outsider, agribusiness interests that collude with governments to dominate food policy and constrain more self-reliant, resilient ways to farm and eat. These locally and nationally grounded researcher, producer, and consumer associations, in short, put people and democracy first, as they seek new ways to deliver new life to farming and farmers, and in the process, help their communities and nations regenerate healthier foodstuffs, diets, and livelihoods.
The book is superbly written; throughout it shows the influence of Frances Moore Lappe and politically progressive colleagues at the Small Planet Institute, a spin-off of Food First—Institute for Social and Development Policy, which contributed physical, intellectual, and spiritual space in the forms of dedicated research assistance and a constructive writing environment where Wise shaped his arguments. The results are ten carefully organized and well-documented chapters sewn into a unified whole that seamlessly adopts Food First's World Hunger: Ten (Twelve) Myths format, without articulating the formal structural repetition of this myth-demolition rhetoric. Like Lappe and her team, Wise, a well-seasoned, food and development policy journalist, artfully practices the craft of activist research and advocacy. The text flows, enlivened by the individual interviewees' voices, juxtaposed with clear, common-sense explanations of scientific-technological procedures like hybrid plant breeding and use of cover crops to nurture soil regeneration. As he illuminates Big Ag industry domination of state-run agricultural research and extension institutions in country after country, he renders these multi-disciplinary analyses and understandings easily accessible to the non-expert reader or consumer.
These essays, originally published in shorter form as blogs, present well-organized, first-person national food-policy case studies that combine interviews with farmers, scientists, policy makers, and business persons with national statistics showing the several ways un-democratic processes skew food production, choices, supply and demand. They make the book well worth reading and using for discussions of food policy not only in university classrooms but in social media and community venues more generally. In particular, I found chapter 6 on biofuels ("Fueling the Food Crisis") a succinct history and political-economic account of this issue. Chapter 3, "The Rise and Fall of the Greatest Land Grab in Africa" exposes the multiple players, including China, who dispossessed small farmers in Mozambique. Farmers in this country (and elsewhere) have also fallen prey to predatory and ill-advised Jatropha plantings for bio-fuels. These are projects that failed to yield returns on investment to outsiders but never return land to grow food to the original subsistence and market cultivators, with the result that former cultivators and affected market consumers go hungry.
There are two energizing Mexico chapters, one on GMOs (especially corn) and the second on NAFTA's impact on Mexico's family farmers. In each case, activists sprouted around the country to make maize a unifying political cry for food security, food sovereignty, and the human right to food — Sin Maiz no hay pais!. At least in the short term, class action suits and court cases, plus political demands for change, kept GMO maize officially out of the country, and sought additional agricultural protections in re-negotiation of NAFTA terms. The conclusion foresees continual struggle of small farmers against big corporations, but hope's edge (to borrow the title of Frances Moore Lappe and Anna Lappe's 2001 book) in democracy and the people's mobilizations, which Wise has witnessed the world over, and the potential power of these food-related associations to change damaging courses of development.
These illuminations to one side, food anthropologists and other knowledgeable readers will likely identify, in each chapter, assertions that suggest Wise's technical and social understandings are incomplete, and in some cases, elitist. Take the sentence "Everyone knows that Mexicans don't want anyone to mess with their tortillas." (p.192) It serves to drive home the theme of chapter 7, "Monsanto Invades Corn's Garden of Eden in Mexico," which is a carefully developed essay on the dangers GMO maize and transnational corporate dominance of food pose to traditional Mexican maize farmers, culinary practices, indigenous and other consumers of local cultural, maize-based diet, and maize biodiversity (because Mexico is a center of origin and diversity in that crop). Mexican anthropologists have managed to get the traditional maize-based Mexican diet classified and protected as a UNESCO cultural heritage of humankind. The original motivation for this UNESCO designation, however, was not merely GMO maize, but the widespread deterioration in the quality of tortillas even without these new varieties. The publicly subsidized corn products, machine made from inferior, cheaper, (sometimes imported) maize prompted low-income consumers to seek wheat alternatives, which the government also subsidized, as equally if not more palatable staple sources of cereal-grain calories.
Wise wisely shares with the reader the luscious, local indigenous-product based high-cuisine meal he enjoys at a top Mexico City restaurant (in the Hilton Hotel) run by a celebrity chef. His palate is delighted by traditional vegetables and sauces, accompanied by tortillas (it goes without saying) hand-made from top quality indigenous maize. But the food-insecure Mexican masses he cares about cannot afford to eat this way, and some of the details of the meal's ingredients (cooked ant-egg sacs for specialty flavors and textures) reveal a tendency on the part of elite Mexicans to conserve as high cuisine traditional indigenous foods that most indigenous Mexicans, long suffering in the countryside, can no longer find or, as impoverished consumers in urban areas, afford to eat.
Among the SSA examples, the case of Malawi underemphasizes the role of government in collusion with grain-trader corruption relative to Monsanto (now merged into Bayer—how quickly the named, accountable identities of corporate boogey-men change). A key concern for democracy-watchers during one good harvest year was the government of Malawi's non-transparent transfer of maize to Zimbabwe or other corrupt heads of state, who used this "food as a weapon" strategically to consolidate or maintain power. Such anti-democratic goings-on are not addressed directly — only in a phrase asserting that in one year maize production was sufficiently high to allow Malawi to export grain to hungry neighbors! The chapter on land-grabs in Mozambique, summarized positively above, lacks a fuller political contextualization describing the land-holding and farmer situations arising from the legacy (e.g., land mines, human displacement and dismemberments) of civil war (which is mentioned in passing).
But this is not to argue that Wise should or could completely address all relevant questions and contexts in a volume of less than 300 pages. Overall perspectives for further development include: "what role will (traditional) staple foods play in future food?" and "will people continue to farm mixed crops that include cereal grains, grain legumes, and vegetables, so that they maintain healthy traditional food patterns?"   These are questions that can be raised for Mexican, Central American, and other maize-eating populations, especially in SSA, but also for traditionally rice-eating nations, like Japan, who for decades have been consuming more wheat and other non-endogenous staple foods.
Such issues accentuate, and do not diminish, the value of this text, and the need for additional, ground-level case studies of local organizations, their results in measurable agricultural practice, and their influence on national food policies. From beginning to end, Wise hones his theme that ultimately all producers and consumers need and want healthy food products, clean water, and a food environment that will be resilient in the face of climate change: "All are striving for the same thing: the right of everyone to eat safe and healthy food today while ensuring that we steward our natural wealth so we can all eat tomorrow." This message puts human beings, particularly small food producers, along with their soils, water, and seeds at the center of advocacy for healthy food, and makes everyone responsible for ensuring everyone's right to food. He brings the discussion back, time and again, to the radical economist's directive not just to follow the money but also investigate who benefits, which in these cases are transnational seed and chemical companies and their national co-conspirators who compel small farmers to buy these seed and chemical products or exit the land. The message, as ever, is timely and urgent, and calls for readers to gain greater exposure of those in the battle for food-justice on all sides and at all levels.